Top
Questions? Ask Us!

Questions? Ask Us!

The Research Medical Library offers many ways for you to cantact us. Check out the options to the right

Off Campus

Login

Log in to the Library's remote access system using your MyID account.
Historical Resources Center
Featured Products
John Mendelsohn, M.D.
in his own words
John Mendelsohn, M.D. served as MD Anderson's third full-time president from 1996 to 2011. In August of 2018, just prior to his retirement, the UT System Board of Regents unanimously voted to name Dr. Mendelsohn President Emeritus.

In this oral history interview, conducted during his presidency, Dr. Mendelsohn talks about leadership, his research, and what it took to double the size of the institution during challenging economic times.

Download the iBook to your iPad or Mac (requires the iBooks app) - Click Here.

Download the PDF - Click Here.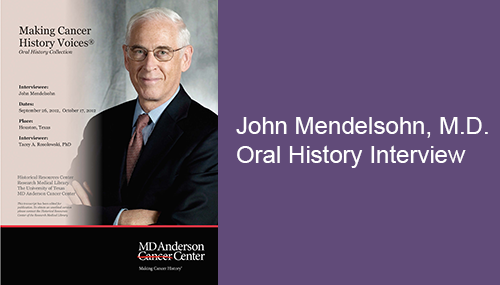 "I saw a place that was passionate about clinical care and …. I met enthusiastic, smart clinician scientists and lab scientists who were really looking for a leader and who I had the feeling would kill for this place …. Most of the people that I worked with for 15 years would fall on their sword for this place…



John Mendelsohn, M.D.
The Historical Resources Center has also produced the following special products: