Adopt-a-Patient/Family Wreath Auction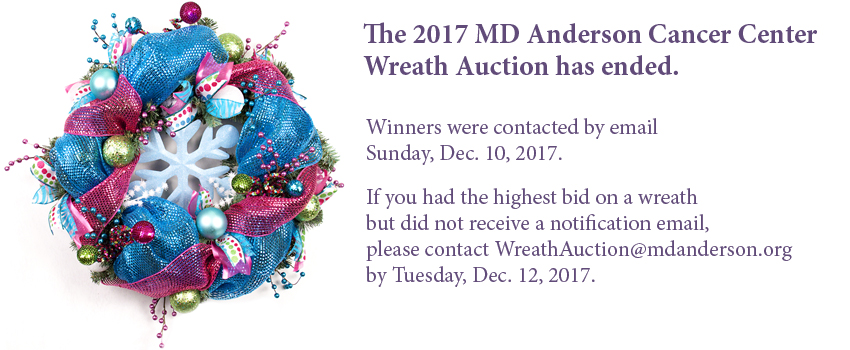 Adopt-a-Patient/Family Wreath Auction
The 2017 Wreath Auction has ended.
Please bid only on wreaths you intend to purchase should you win.
Bid winners were contacted via email on Sunday, Dec. 10.
If the highest bidder on a wreath cannot be contacted, or the highest bidder declines the wreath, the next highest bidder will be contacted. This process will continue until the wreath is sold.
Bid winners or their designees must be available to make payment and collect their wreaths on one of three days at the Mays Clinic skybridge:

Wednesday, Dec. 13, 11 a.m. - 2 p.m.
Thursday, Dec. 14, 11 a.m. - 2 p.m.
Friday, Dec. 15, 11 a.m. - 2 p.m.

Cash, checks and credit cards accepted for payment.
Please note that we do not ship wreaths.
Contact us
Email wreathauction@mdanderson.org with questions or concerns about this fundraising event.
If you see an auction item you want to keep track of, you can add it to a Watch list. You will receive an email when a bid is entered for an item on your Watch list.
Click here to set up your Watch list.