Adopt-a-Patient/Family Wreath Auction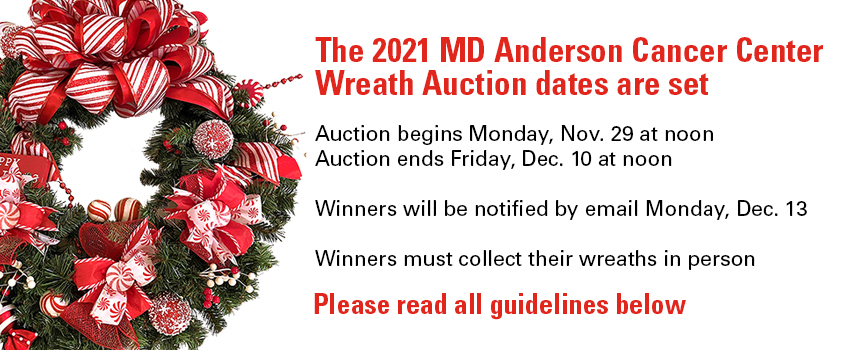 Adopt-a-Patient/Family Wreath Auction
Bidding runs Monday, Nov. 29, at noon through Friday, Dec. 10, at noon.
We regret that we cannot ship wreaths.
Please read all of the information below.
Those with the winning bids for the wreaths will receive notification and instructions by email on Monday, Dec. 13.
Wreaths must be collected in person on one of three days at the drive between Pickens Academic Tower and Mendelsohn Faculty Center, right lane.


Wednesday, Dec. 15, 7 a.m. to noon
Thursday, Dec. 16, 7 a.m. to noon
Friday, Dec. 17, 7 a.m. to noon

Bid kindly. To respect other bidders and the wreath creators, please bid on a wreath only if you intend to purchase it should you win it. Immediately email wreathauction@mdanderson.org should you receive notice that you've won a wreath, but have decided not to purchase it.
We regret that we cannot ship wreaths. If you can't come to the MD Anderson campus to collect your wreath, please make arrangements with a co-worker or friend to collect your wreath.
Curbside service for the second year in a row, to align with COVID-19 precautions.
Payment by credit or debit card only. Wreath winners will pay from their cars when they come to collect their wreaths. We will not accept cash or checks this year.
Contact wreathauction@mdanderson.org with any questions or concerns.
Happy bidding!
If you see an auction item you want to keep track of, you can add it to a Watch list. You will receive an email when a bid is entered for an item on your Watch list.
Click here to set up your Watch list.