ADOPT-A -PATIENT/FAMILY WREATH AUCTION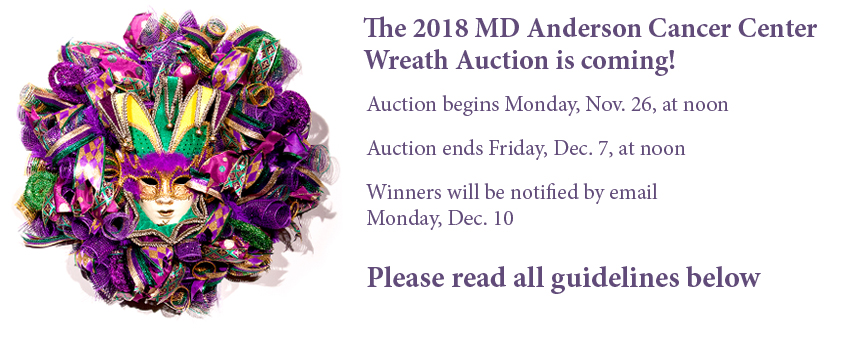 ADOPT-A -PATIENT/FAMILY WREATH AUCTION
Yes!! We take credit cards!


Thank you for your participation in our annual wreath auction! The 2015 Auction runs from noon, Dec. 9 through Noon Dec. 15, 2015. The proceeds from the auction benefit Social Work's Adopt-A-Patient/Family Program.



BID WINNERS

(highest bid at the end of the auction)
•Winners will be contacted via email on Dec. 15.
•Winners or winner's designee must be available to make payment & pick-up wreaths on Dec. 16 or 17, 11:00 - 1:30 at the May's Clinic skybridge or on Dec. 18 by appointment. We do not ship wreaths!.



CONTEST WINNERS

(Wreath Designers)
Wreath designers that created the three wreaths with the highest bids at the end of the auction will receive prize awards. Wreaths with more than 3 designers will receive a group prize. Winners will be contacted via email.



CONTACT INFORMATION


Kathy Lang, Human Resources at 713-745-6477.
If you see an auction item you want to keep track of, you can add it to a Watch list. You will receive an email when a bid is entered for an item on your Watch list.
Click here to set up your Watch list.