Top
Questions? Ask Us!

Questions? Ask Us!

The Research Medical Library offers many ways for you to cantact us. Check out the options to the right

Off Campus

Login

Log in to the Library's remote access system using your MyID account.
Historical Resources Center
The Making Cancer History® Voices Oral History Project
Unique Among Biomedical Institutions
MD Anderson's Historical Resources Center and the oral history project [OHP] were started in the late nineties to preserve the institution's history and collect some of the background that historian James Olsen, PhD needed to write Making Cancer History .
Documenting the past produces information relevant to understanding the institution's present and future; however the value of the collection can only be realized by putting this rich resource to use for that purpose.
The mission of the oral history project is to collect interviews with institution builders and leaders, create easy access to the collections and mechanisms for finding content, and explore ways to put the collection to use.
Our oral history project is now unique in the world. History doesn't just happen in the past. History is being made now. Therefore we interview those individuals who can comment on how MD Anderson finds its way through challenges and into the future.
---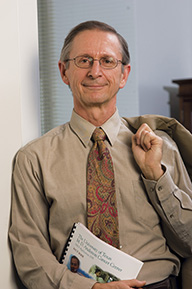 Why create an OHP?
Stephen Tomasovic, PhD, a co-founder of the HRC, explains.
At a Glance:
Who:
Institution builders, leaders, researchers, clinicians, donors, key staff members

What:
130 interview subjects, 400 interview hours. More added each year

Listen, read transcripts, search content via two databases
Users include:
HR, Faculty and Academic Development, Development, Strategic Communictions, Creative Services, Emergency Medicine, Rice University.