Top
Historical Resources Center
Legacies
John Mendelsohn, M.D.
(1936-2019)

Third president of MD Anderson [1996-2011]

John Mendelsohn served as MD Anderson's third president from 1996 to 2011. He came to the office with a reputation as a physician-scientist and institution builder. He also had a bold vision to grow the institution. People who worked with Dr. Mendelsohn describe him as a great communicator, even a "secret weapon" in convincing people to embrace his vision. Under his leadership, MD Anderson doubled in size, and fund-raising increased five-fold to support research, clinical care, and a system of internal institutes that link research to all phases of a patient's cancer experience. This not only increased the institution's research output. It also established the foundation for more team science efforts to leverage new knowledge bases, new technology, and big data for patient care. Dr. Mendelsohn passed away on January 7th, 2019. He was 82.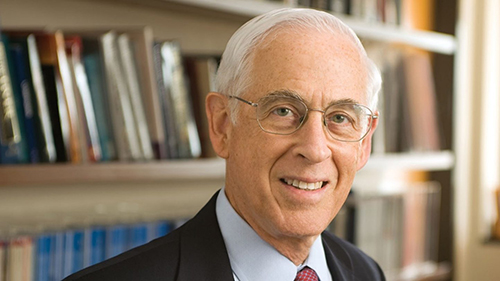 Dr. Mendelsohn talks about his bold vision for MD Anderson -
(Listen)
Dr. Mendelsohn recalls a drive to the Texas Medical Center -
(Listen)
Full Oral History Interview -
(Listen)
Download the iBook to your iPad or Mac (requires the iBooks app) -
Click Here
.
Download the PDF -
Click Here
.
MD Anderson obituary -
Click Here
.
---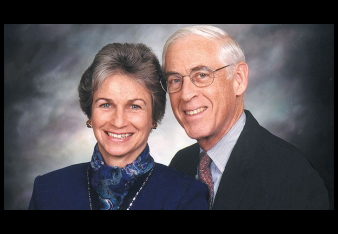 Dr. Mendelsohn with his wife, Anne.
"In 1996, ironically, there was a downsizing going on …. To me and to the faculty, this didn't make sense. We knew where cancer was going. We knew about the exciting developments that were occurring. We knew that this couldn't be led and pioneered in an average hospital. It had to be pioneered in a place that had the kind of assets that MD Anderson had, a large faculty with protected time to do research and a total commitment to the very best standard of care…. We decided to ignore these consultants. We had committees to do the vision statement. It was bold. "We shall be the premier cancer center." We talked a lot about that. We were number two. "Do you want to put that in writing?" "Yes." "Based on the excellence of our people, our research-driven patient care, and our science."



John Mendelsohn, M.D.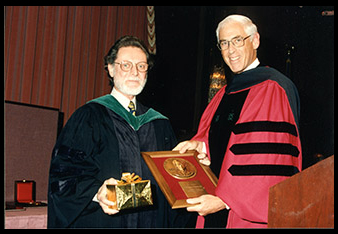 Dr. John Mendelsohn presents Dr. Frederick Becker
with the Charles A. LeMaistre Outstanding Achievement
Award in Cancer, October 1996
"John Mendelsohn is one of my heroes. I think that he really is a superb leader. Over the fifteen or so years that he was president, John grew MD Anderson into the footprint that exists today. He accomplished that in some pretty turbulent times. John was not only a champion for research, he had deep respect for patient care and realized that our clinical enterprise must be strong. He understood the importance of surgery as an important front door for the institution. He recruited strong clinicians and expanded translational research."



Robert Bast, MD
VP for Translational Research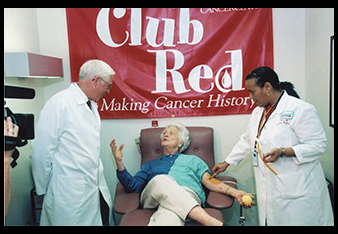 Dr. Mendelsohn with Barbara Bush at a Club Red blood drive, 2001
Dr. John and Anne Mendelsohn visit with philanthropists Margaret Alkek Williams and Margaret Alkek, November 1997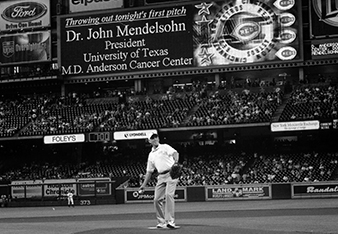 Dr. Mendelsohn throwing out the first pitch at an Houston Astros game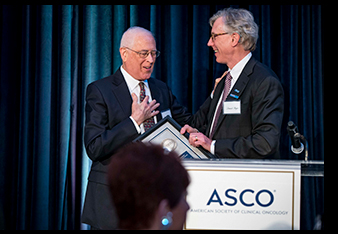 Dr. Mendelsohn receiving a Distinguised Award from ASCO