Top

Historical Resources Center
Featured Collections
The Burnout Video Collection

This video collection was created from interviews the HRC conducted with presenters and participants at a landmark symposium held at MD Anderson in 2017. "Beyond Resiliency Training: Organizational Strategies to Alleviate Burnout and Increase Wellness in Academic Medicine" was sponsored by healthcare institutions within UT System and brought together some of the most significant thought leaders in the field. This collection of 14 interviews and over 60 short video clips captures the most current thinking about burnout, its solutions, and what organizations, leaders, and employees can do to prevent it.
---
About Our Heritage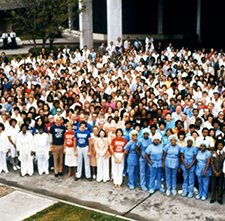 From the institution's origins at the Baker Estate to the founding of the Texas Medical Center to its current status as one of the best cancer hospitals in the nation, MD Anderson has a unique heritage that made it the institution it is today. Explore a range of products that highlight stories that embody the ethos and spirit that has been with the institution from the very beginning.
---
Telling Our Leadership Story
At the HRC, we document the vision, philosophy, and talents of the people who have built the institution and who continue to secure MD Anderson's role in leading cancer research and care.
---
Legacies
MD Anderson would not be a preeminent cancer center if not for the vision and pioneering spirit of our leaders. The archives created a series of tribute pages to honor the legacy of the men and woman who dedicated their careers to eliminating cancer. These pages provide resources including quotes, images, interview files, and audio clips that tell their story and the impact they had on MD Anderson.
Announcing:
Legacies
Snapshots in facts, stories, and quotations to celebrate the people who have built MD Anderson